Translation.io Goes Private Beta
After several months of development, we are proud to announce that Translation.io is now ready to be beta-tested. Starting today, developers can translate Rails applications using either GetText or I18n YAML and our powerful translation interface.
Thanks to our landing page, Beta List, StartupLi.st and a couple of Facebook groups (1, 2), over 100 Ruby on Rails developers interested in better translation tools have already subscribed to our mailing list.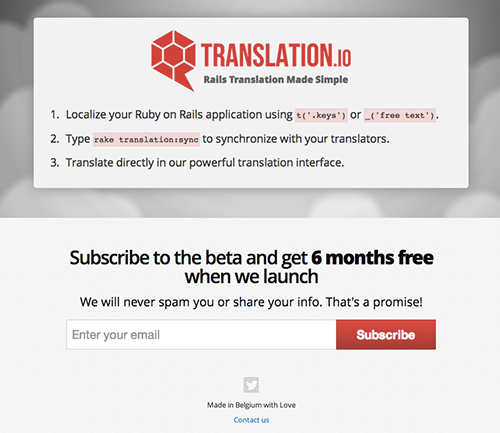 All of these developers won the right to access our private beta + 6 months free when we launch (see planning below).
How to Test?
It's really simple: start by adding gem 'translation' to your Gemfile. See usage for more details.
Do you already have a multilingual Ruby on Rails application or website? Please try to add our gem, configure a project, and synchronize your app. It will only take 5 minutes.
If you add collaborators (developers or translators) to your projects, these users will also get access to the private beta. So make your friends happy by giving them 6 months free.
Planning
Our planning is the following:
Private beta: 12th August to 30th September 2014.
Public beta: 1st October to 31st December 2014.
Live Release: 1st January 2015.
Every user on the private beta will get free access until July 2015 (6 months free), and every user on the public beta will get free access until April 2015 (3 months free).
Featured Members
Do you own an amazing Rails application and are interested in using Translation.io? You are the perfect candidate to be featured on our home page. It would be free advertisement for you and a nice testimonial for us.
Interested? Please contact us.
What Now?
Enjoy free translation management and synchronization until July 2015. After that, we'll try, at any point, to be way cheaper than our serious competitors.
Please contact us on contact@translation.io or @translation_io if you need any help or any advice on how to make things better or easier for you!
Feedbacks would be greatly appreciated :-)